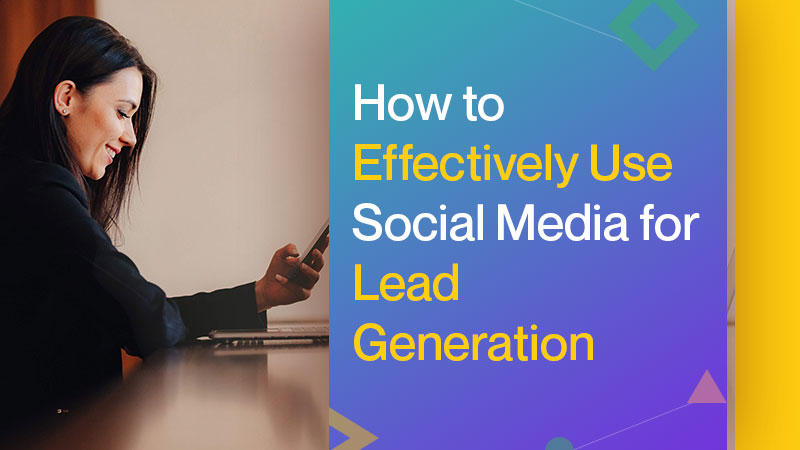 Today is the right time to use social media for lead generation. At this time and age, everyone is spending more time on social media.
From connecting with loved ones living far away, to getting news updates. Social media is much more than just a tool you can use to connect with loved ones or get news; it also helps to grow and nurture your product or service and content with your clients. If you do it right, it will help your brand tremendously.
SOCIAL MEDIA FOR LEAD GENERATION
Primarily, Lead generation intends to make the sales pipeline by catching the interest of a consumer in a particular product or service. Lead generation can be done online, offline, or can be both. Lead generation is essential because it lets you use various channels to create enormous traffic that leads to higher sales. It is necessary that you make use of all the means, especially social media, to keep generating leads.
However, the days where lead generation solely relied on sending out surveys, filling out forms on magazines or pamphlets are swiftly vanishing. The internet has entirely shifted how businesses can generate leads faster and better.
Social media makes lead generation more accessible and faster because information and potential clients are just one tap away. Add to that fact that in this time and age, people spend more time socializing on social media that it makes the perfect place to find your target market. One of the crucial points to consider is picking the right social media platform. Know your clients first. Let us say, Facebook if you are going to ask around. Everyone has a Facebook account.
However, according to studies, only 39% of B2B marketers use Facebook in lead generation, while 44% use LinkedIn, and 82% of social media leads are garnered from Twitter. So, remember that just because one site is popular does not mean that it gives you the success that you need.
Here are the different social media platforms and how to make use out of it in generating leads:
Facebook
If your target clients hang out on Facebook, it will not be difficult for you to generate leads from here. You could make a Facebook page and create interactive contents like hosting a contest that will initiate engagement with your followers. You could also run paid ads that can possibly reach a potential client.
LinkedIn
LinkedIn is a social media platform, specially catered towards professionals and networking, which makes your leads organic. As the leading social media site to use by B2B marketers, offering free samples is an effective technique to garner high-quality leads. Going on LinkedIn Premium gives businesses the chance to look for qualified leads based on career or occupation roles and other essential criteria. You could also combine content marketing and LinkedIn to show your target prospects your knowledge as a leader, provide information and insights regarding your business for other professionals to see, and while you are at it, you could also gain leads.
Twitter
If you are considering Twitter to gain leads, using Twitter cards or social cards is highly recommended. Twitter cards or social cards enhance your tweets with additional content, media, and call to action. You just have to choose the right cards that fit your business. Do not forget to use eye catching graphics and get the clients' attention with a 280-character caption. And make sure that you are keeping track of the brand mentions, as it will be your leads.
Instagram
Instagram is not just a place where you can post beautiful photos and short videos. You could also build up your brand and interact with your audience. Whatever you share on Instagram will be directly shared to your other platforms because you can connect it to your Facebook and Twitter so that it will be hitting three birds with one stone.